Devon Food Partnership is proud to have been awarded Sustainable Food Places membership status in July 2021.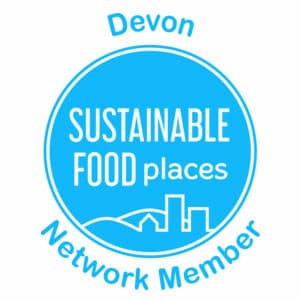 Sustainable Food Places is a network of cross-sector partnerships in towns, cities, boroughs and counties that are using food as a vehicle to drive positive change. The Network helps people and places to share challenges, explore practical solutions and develop best practice in all aspects of healthy and sustainable food. Devon joins a network of over 55 members across the UK. Tom Andrews, Director of Sustainable Food Places, said: 
"In over 55 places across the UK, individuals and organisations have come together to develop a joint vision of the kind of food culture and food system they would like to see and are working together to make that vision a reality….One of the first of our county cohort, the Devon Food Partnership has shown a real ambition to transform things for the better and we are delighted to be able to support them in achieving their goals."  
Devon is proud to be one of the newest county food partnerships, and one of few with membership of the Sustainable Food Places network.
Sustainable Food Places is a partnership programme run by the Soil Association, Food Matters and Sustain. It is funded by the Esmée Fairbairn Foundation and The National Lottery Community Fund.