Steering Group
The Devon Food Partnership brings together key stakeholders from across Devon's food system into a steering group. The role of the steering group is to inspire, support, and connect action around the county. A wide range of organisations are represented on the steering group: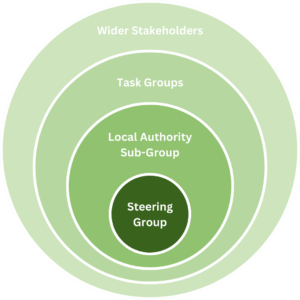 Food Plymouth
Devon Climate Emergency
Pipers Farm
DCC Public Health Team
DCC Communities Team
DCC Waste Team
Torbay Food Alliance
Exeter Local Organic Food Hub
University of Exeter
National Farmers' Union
Feeding Devon
SW Food Hub
Devon Community Foundation
Devon Wildlife Trust
VSCE representatives
Sub-groups
The Partnership also includes a local authority sub-group, which includes representatives from Devon's eight districts and two unitary authorities. Work is underway to establish smaller task groups to focus on specific issues such as dynamic food procurement and food insecurity.
We are always keen to facilitate more joined-up working across different organisations, locations, and groups. So, if you have a project and are looking to link up with other partners, get in touch and we would love to hear about it.