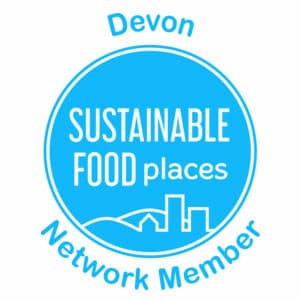 Devon Food Partnership has achieved membership of the Sustainable Food Places network to support their efforts to make local, healthy and sustainable food available to all.
Devon Food Partnership are an example of how public, private and voluntary sector organisations can work together to make affordable good food a defining characteristic of Devon. 
Sustainable Food Places is a network of cross-sector partnerships in towns, cities, boroughs and counties that are using food as a vehicle to drive positive change. With support from the Esmée Fairbairn Foundation and The National Lottery Community Fund, the network helps people and places to share challenges, explore practical solutions and develop best practice in all aspects of healthy and sustainable food. Devon joins a network of over 55 members across the UK. Tom Andrews, Director of Sustainable Food Places, said: 
 "In over 55 places across the UK, individuals and organisations have come together to develop a joint vision of the kind of food culture and food system they would like to see and are working together to make that vision a reality.  As the programme expands to new places and geographies across all four nations, a growing critical mass of county food partnerships are acting collaboratively on sustainable food. One of the first of our county cohort, the Devon Food Partnership has shown a real ambition to transform things for the better and we are delighted to be able to support them in achieving their goals."  
The Sustainable Food Places Network works to tackle some of the biggest social, economic and environmental issues today, from an epidemic of food poverty and diet related ill-health, to the loss of independent high street food businesses and family farms, through to climate change, biodiversity loss and food waste.  
The Devon Food Partnership is particularly pleased to have been awarded grant funding alongside membership status, to develop this new partnership over the next two years. The partnership hopes to continue to engage with a range of stakeholders across Devon, Plymouth & Torbay to explore opportunities for organisations and the public to come together to tackle these food issues in Devon.
To find out more about the partnership, and stay up to date with events and opportunities to get involved subscribe to news alerts.